Most of the time, I pull books from my "to-read" list over on Goodreads.  Occasionally, however, I'll get a recommendation for a book from someone and I'll read it immediately — that's what happened with A.S.A. Harrison's The Silent Wife.  My mother recommended it and handed me a paperback copy of the book.  I finished it a few days later.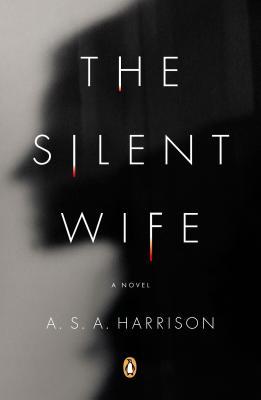 In case you haven't read it, Goodreads has prepared a brief summary just for you:
Jodi and Todd are at a bad place in their marriage. Much is at stake, including the affluent life they lead in their beautiful waterfront condo in Chicago, as she, the killer, and he, the victim, rush haplessly toward the main event. He is a committed cheater. She lives and breathes denial. He exists in dual worlds. She likes to settle scores. He decides to play for keeps. She has nothing left to lose. Told in alternating voices, The Silent Wife is about a marriage in the throes of dissolution, a couple headed for catastrophe, concessions that can't be made, and promises that won't be kept. Expertly plotted and reminiscent of Gone Girl and These Things Hidden, The Silent Wife ensnares the reader from page one and does not let go.
All in all, I give The Silent Wife four out of five stars.
I've never read anything by Harrison before, but prior to Silent Wife, she published two nonfiction books; this is her first novel.  It's frequently compared to Gone Girl (though it seems everything is these days), but the structure and subject matter are entirely different.  Within the first two pages, you know that Jodi is going to kill her husband, and that the story is going to take you through the months leading up to that act.  What follows is a superbly-written characterization of two people whose life together is diverging, yet their worlds collide at the end.
In my opinion, the reason that Silent Wife is compared to Gone Girl is its distinctly unlikable characters.  You've got a habitual cheater and a murderer.  I think that Jodi and Todd are exceptionally well-written, though, in that throughout the novel, you don't grow to despise them.  Rather, you empathize with both of them, their struggles, and find pieces of yourself within their characterizations.
Harrison's writing itself is excellent.  She captures just enough detail to add life to the setting, the characters, but what I appreciated was the subtlety of her narrative style.  As I mentioned, you learn of Jodi and Todd's eventual end within the first two pages of the novel, but Harrison tantalizes you with that fact, and you end up getting caught up in the story and dreading the eventual murder, because the book will be over.
Ultimately, this story is one driven by character development rather than actual action.  As such, I would recommend it to people who enjoyed books like Sense and Sensibility and Anna Karenina. Unfortunately, Harrison passed on in 2013 while working on her second novel.  Hers is a great loss to the world of literature, but The Silent Wife is a gem left behind.