Today's read is for my next book club meeting on Monday: The Invention of Wings by Sue Monk Kidd. This book was on my radar before it was selected for book club, but I'm glad that I read it.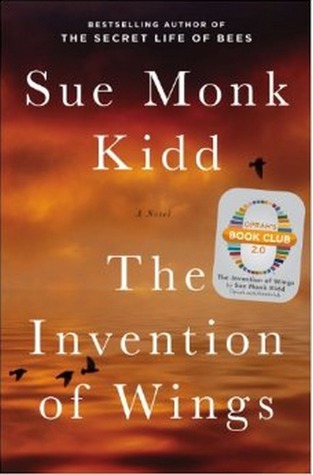 via
From Goodreads:
Hetty "Handful" Grimke, an urban slave in early nineteenth century Charleston, yearns for life beyond the suffocating walls that enclose her within the wealthy Grimke household. The Grimke's daughter, Sarah, has known from an early age she is meant to do something large in the world, but she is hemmed in by the limits imposed on women.
Kidd's sweeping novel is set in motion on Sarah's eleventh birthday, when she is given ownership of ten year old Handful, who is to be her handmaid.We follow their remarkable journeys over the next thirty-five years, as both strive for a life of their own, dramatically shaping each other's destinies and forming a complex relationship marked by guilt, defiance, estrangement and the uneasy ways of love.
As the stories build to a riveting climax, Handful will endure loss and sorrow, finding courage and a sense of self in the process. Sarah will experience crushed hopes, betrayal, unrequited love, and ostracism before leaving Charleston to find her place alongside her fearless younger sister, Angelina, as one of the early pioneers in the abolition and women's rights movements.
Inspired by the historical figure of Sarah Grimke, Kidd goes beyond the record to flesh out the rich interior lives of all of her characters, both real and invented, including Handful's cunning mother, Charlotte, who courts danger in her search for something better.
I am delighted to give The Invention of Wings five stars.
Sue Monk Kidd is a fairly prolific author, but before Wings, I had only read The Mermaid Chair. Her writing is characteristic: complex but accessible, with characters who are dynamic and true. Wings is a demonstration of her ability to craft exceptional historical fiction.
I knew little to nothing about the Grimke sisters when I opened this book, but had read many books about slavery and the civil war. It seems to me that many authors struggle to strike a balance between narrative and history in books like this.
Let me be clear – I believe that the plight of slavery is a tremendous tragedy that should be learned from. That said, most Books About Slavery fail to acknowledge the culture that African American slaves developed during their enslavement. Most Books About Slavery paint pictures of slaves and owners who are flat, who lack complexity. Yes, slavery is a terrible part of our history, but celebrating the character of people who survived it is just as important as recognizing its wrongness.
I'll get off of my soapbox now.
Sue Monk Kidd finds a way to tell the story of the Grimke sisters, who famously fought for abolition as well as women's rights, as well as the story of the fictitious Handful, a smart and complex young woman. It is the complexity of these characters, the backdrops of Charleston and Philadelphia, and the profound importance of the subject matter that make this book outstanding. It spans decades, and addresses multiple controversies, and gives a face to both slaves and slave-owners that is valuable.
All in all, what made me enjoy this book is its ability to instruct while still being enjoyable. It is a masterful work of historical fiction, and I am pleased that it was picked for book club. All in all, I would highly recommend it.