After finally getting ahead on my Book Club reading, I'm pleased to share something that I picked myself today: The Martian by Andy Weir.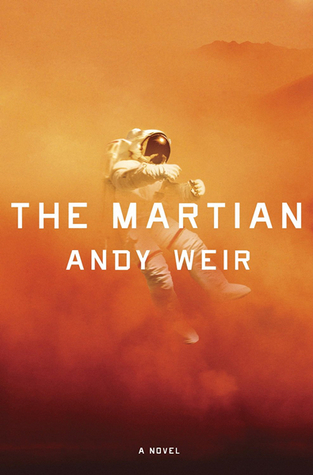 If you haven't read it already, you may want to skim the Goodreads synopsis:
Six days ago, astronaut Mark Watney became one of the first people to walk on Mars. Now, he's sure he'll be the first person to die there. After a dust storm nearly kills him & forces his crew to evacuate while thinking him dead, Mark finds himself stranded & completely alone with no way to even signal Earth that he's alive—& even if he could get word out, his supplies would be gone long before a rescue could arrive. Chances are, though, he won't have time to starve to death. The damaged machinery, unforgiving environment or plain-old "human error" are much more likely to kill him first. But Mark isn't ready to give up yet. Drawing on his ingenuity, his engineering skills—& a relentless, dogged refusal to quit—he steadfastly confronts one seemingly insurmountable obstacle after the next. Will his resourcefulness be enough to overcome the impossible odds against him?
I give an enthusiastic five stars to The Martian.
First thing's first: go pick up this book at your local library or bookstore. It's masterful.
Really, I should qualify, though – I almost gave up on this book about 1/3 of the way through because it was highly technical and science-based at first (in fact, it's worth noting that most of the science in this book is accurate). It's not a spoiler to share that the book is primarily written from first-person perspective in the form of a log book. This became trying 100 pages in.
Then Weir pulled in storylines from back on Earth, and I was hooked.
Eventually, the interweaving of Earth and Mars becomes seamless, and tremendously interesting. The book itself is written employing a blend of first and third person voices in a way that is effective and really helps the reader understand the transitions happening. Moreover, the highly technical scientific talk eventually becomes digestible. The entirety of the book was accessible.
You know what else? Weir made me laugh. Unexpectedly. And that was necessary in these otherwise intense pages, because otherwise, a lot of this book would have been joyless. It's this, paired with the incurable science, as well as the deliberate humanity that Weir attributes to these characters that make it compelling, and even difficult to put down.
If you like science, astronomy, or Cast Away-type tales, this is the book for you. If you like good, informative fiction, this is the book for you. Heck, if you like books at all, this is the book for you. Get reading!