Happy Friday everyone! It's Penn State Homecoming Week in Happy Valley, which means that everything is busy and crazy and packed and I want to do everything! We've got a busy evening tonight and day tomorrow, but I'm really hoping to squeeze in some time to mow the lawn and clean our house because next weekend our friend Michelle is coming up from North Carolina. So much to do, so little time…but at least it's the weekend!
One | My friend Shea is a finalist for The Big Reveal Room Makeover Contest on Apartment Therapy! She and her husband, Tim, completely revamped their bathroom when they moved into their house last year, and they did it for just $5,500. If you're interested, you can see the redo here, and if you'd like to vote for them, all you have to do is create an account and "favorite" the post! If they win, they will receive $1000 to use towards some other home project!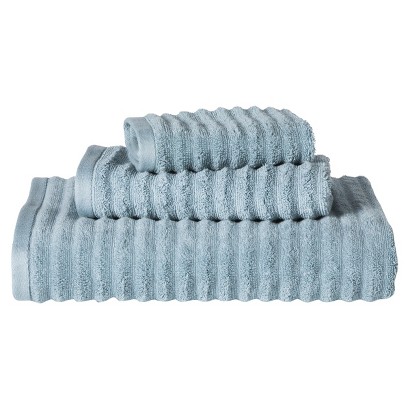 via
Two | Target had a home sale this week so I picked up some new textured towels for our guest room. Our towels are a bit worn out, so I wanted to at least have one nice new set for guests when they come over. I picked up white towels because I like being able to bleach everything, but these fountain blue ones (pictured above) are pretty dreamy.
Three | I finally caved and bought a new coffee machine. I received a Nespresso Vertuoline from a blog giveaway, but I just can't justify spending over $1.00 per cup to buy capsules for it. Fortunately, I was able to snap up this Hamilton Beach Coffee Maker which I have received and am really liking. It's programmable, it makes good coffee, and it has a removable reservoir so I can make sure no mold grows in it (my worst coffee machine fear).
Four | Each week, I endeavor to try to make one new recipe. This weekend, I'm hoping to make this recipe from Naturally Ella for Curry Grilled Vegetables with Chickpeas and Creamy Polenta… sans grill. Unless, of course, L wants to get out his grill basket. It just looks like such a tasty fall dish!
Five | Time to clean house, both physically and electronically. I need to do a major Pinterest cleanup. I try to keep my recipes pared down to things I will actually cook, and it's getting a bit clogged up with things I'll never make. I worked on my Healthy Vegetarian Entrees board and am feeling pretty good about it… now to tackle the others.