Jessica Knoll's Luckiest Girl Alive had been on my radar for a few months before I was first in the queue at the library.  I had pegged it as a bit of thriller-meets-Gossip Girl, and it was having a bit of a "moment," so I figured 'why not' and added it to my list. By the time it arrive at my office, I had forgotten it entirely.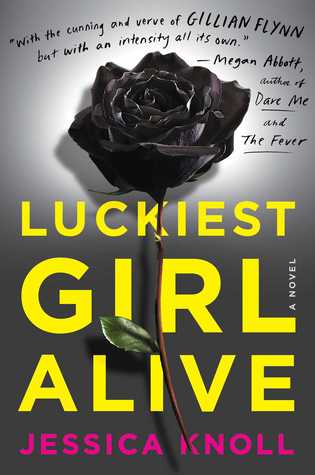 Via Goodreads:
As a teenager at the prestigious Bradley School, Ani FaNelli endured a shocking, public humiliation that left her desperate to reinvent herself. Now, with a glamorous job, expensive wardrobe, and handsome blue blood fiancé, she's this close to living the perfect life she's worked so hard to achieve.
But Ani has a secret.
There's something else buried in her past that still haunts her, something private and painful that threatens to bubble to the surface and destroy everything.
With a singular voice and twists you won't see coming, Luckiest Girl Alive explores the unbearable pressure that so many women feel to "have it all" and introduces a heroine whose sharp edges and cutthroat ambition have been protecting a scandalous truth, and a heart that's bigger than it first appears.
The question remains: will breaking her silence destroy all that she has worked for—or, will it at long last, set Ani free?
I give Luckiest Girl Alive two out of five stars.
Is it possible to both dislike and enjoy a book at once?  That's the only way I can describe this one. Parts of it seemed pretty shallow – both in celebration of vanity, and in actual depth – yet at the same time, ironic and critical of that same vanity.  It's clumsy, yet at the same time, something about it feels authentic.
Then there is all the teasing of Ani's deepest secret, which I thought would be something equally shallow or a simple embarrassment, but the depravity of what happened to that character and the complete glossing over of that incident was horrifying, but it was also angering.  Knoll doesn't do enough to deplore everyone doubting Ani's story – instead, Knoll focuses on Ani's recognition that the material is meaningless if you have to sacrifice yourself for it. There is a huge, relevant issue there that is completely unaddressed.
That said, I was surprised at how dark parts of this book were. [Spoilers]. Tying together deviance, bullying, gang rape, and a cult of secrecy and humiliation? Not what I was expecting at all.  There were times it would catch me unawares, and I'm still not sure why.  Maybe it's because of those lurking bits of horror, but I think about this book from time to time, even a few times in a week.
Ultimately, I'm disappointed with Luckiest Girl Alive. If Knoll's mission is to call out classism/elitism for what it is, she achieves it. But I think when you write about the topics she's chosen to write about, you have an obligation to address them head-on, and not doing so is irresponsible.  All said and done, I don't feel like this book has changed me for the better or worse, or has made any meaningful impact on me, aside from distaste.