It's been a few months since I've shared a book that's been as buzzed-about as today's read: All the Light We Cannot See  by Anthony Doerr. I knew very little about this book when I picked it up, but well-reputed historical fiction? Consider me hooked.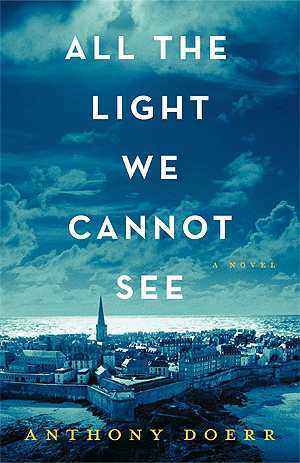 Via Goodreads:
Marie-Laure lives with her father in Paris near the Museum of Natural History, where he works as the master of its thousands of locks. When she is six, Marie-Laure goes blind and her father builds a perfect miniature of their neighborhood so she can memorize it by touch and navigate her way home. When she is twelve, the Nazis occupy Paris and father and daughter flee to the walled citadel of Saint-Malo, where Marie-Laure's reclusive great-uncle lives in a tall house by the sea. With them they carry what might be the museum's most valuable and dangerous jewel.

In a mining town in Germany, the orphan Werner grows up with his younger sister, enchanted by a crude radio they find. Werner becomes an expert at building and fixing these crucial new instruments, a talent that wins him a place at a brutal academy for Hitler Youth, then a special assignment to track the resistance. More and more aware of the human cost of his intelligence, Werner travels through the heart of the war and, finally, into Saint-Malo, where his story and Marie-Laure's converge.
I give All the Light We Cannot See  four out of five stars.
I have no idea what I expected, but this wasn't it.  First, the book is masterfully written – it's been some time since I've read something quite this beautiful. It's also a compelling page-turner without being a thriller. There is suspense without anything being a surprise. And, so rare in an author, but Doerr is able to successfully cross time and space without losing the reader. Exceptionally well done.
Then, there is the story. Europe in World War II fascinates me – so much emotion, so much conflict, so much history leading up to that period, and following it. We take two completely separate halves of one story – Marie-Laure and Werner – and pull apart their separate lives before briefly lacing them together. It's not a new way to tell a story, but Doerr does it well.
Where Werner's coming-of-age story is familiar and uncomfortable to read at times, Marie-Laure's is completely different. Hers is one of mysticism and rediscovered the world lost through sight. Werner's story focuses on the consequences of inaction, and focus on one's own ambitions rather than what is right.
Despite the content of the book – the war, the tragedies, the confusion – I can honestly say I enjoyed reading it. If I took something away from All the Light We Cannot See, it's that sometimes, our entire lives and everything we've done or not done, seen or not seen, can influence a single encounter. That encounter may be brief, or it may be lifelong. In some cases, it may be both.
What a masterful book, and what a worthwhile read.